WOW is our avenue to develop women's ministries here at Woodlands. Recently affiliated with Presbyterian Women, this year we are running with the theme of 'God is Able'.
"It's so easy to be fixated on my deficiencies: navel-gazing is so pleasing. But to be fixated on Christ and His perfections that takes faith. The real test of faith is whether you've finally grown tired of thinking about yourself and what's missing in you & thrown yourself on Christ" Elyse Fitzpatrick
2 Cor 3 v18
"And we all, who with unveiled faces, contemplate the Lord's glory, are being transformed into His image with ever increasing glory, which comes from the Lord, who is the Spirit"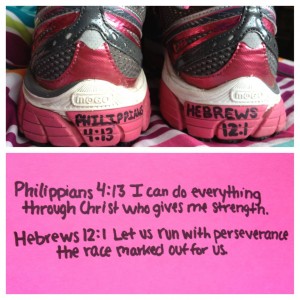 We began our 2015/16 session with a breakfast on 29th August. It was a great event full of fun, food and fellowship. It is so good to see women of all ages getting together. Cecilia Milburn shared some thoughts based on her experiencing of learning to run, about our role as "coaches" for each other in our walk with Jesus. We all need people who will both encourage and challenge us to be more Christ-like whether we have "just put on our shoes" and are starting the Christian walk or whether we should be more similar to "world class athletes" who need reminding of all we have learned.
We were also reminded of the importance of not just being a coach for others but also of being open to being coached, of having a teachable spirit. All of the women were encouraged to engage with the Disciple Life program that the whole church will be undertaking throughout the autumn.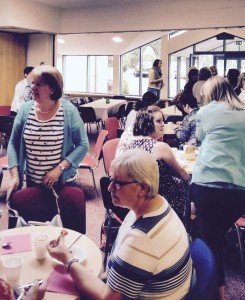 Isobel Moore then took time to remind us of both the importance and the power of prayer using examples from both her own experience and recent answers to prayer seen in our own church family. Women were full of joy to hear of children and adults coming to faith through the sharing of the good news of Jesus in both holiday bible club and church services.
Because of our church focus on Disciple Life, which is held on a Sunday or Wednesday evening, WoW will be taking a break until this course is completed. We will be seeking God's leading about our next steps and listening to what women feel they need to be encouraged and supported to be disciples of Jesus. We will update the website in due course.
Book Suggestions
Here at Woodlands we love to read, so below are some book suggestions along the theme of the Bare faced Breakfast.
"Am I beautiful?" by Chine Mbubaegbu (Paperback) Also webpage www.amibeautiful.co.uk
"The Freedom of Self-Forgetfulness" by Tim Keller (Kindle and Paperback)
"High Heels and Holiness" by Jo Saxton (Kindle and Paperback)
Key Contact
To find out more information about WOW contact Pamela Addis on 07920 404064.
WOW is affiliated to: