I am Woodlands – Cecilia Milburn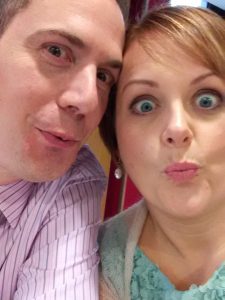 Introduce yourself – Who are you, what do you do, who are your family?
My name is Cecilia Milburn. I am a manager with CLIC Sargent, a charity that supports young people with cancer. I'm married to Steve and we have two boys Ewan (15) and Finlay (9)
What does a day in your life look like?
Every day is different. The service I manage consists of 10 Homes from Home across the UK so I usually travel one day per week; often getting up for very early flights (hard for someone who is definitely a night owl!) and arriving home late at night. I love working with the house teams to provide a really vital service for families who are going through very difficult times. The next day I might be working from home so I'll do the school runs and make sure Finlay gets his homework done. We share out all the chores otherwise our family life would grind to a halt so, for example, cooking, grocery shopping and cleaning bathrooms are my responsibility while Steve's great at laundry, ironing and fixing/building things.
Tell us a bit of your story – how did you become a Christian, what got you to the place you're at today?
From I was very young I understood that Jesus loved me and that I needed Him both to deal with the sin in my life and if I wanted to have eternal life after I died. My faith has often been challenged and tested, both intellectually, for example, at university living with bright, sometimes provocative, non-Christians, and emotionally, experiencing miscarriages and other dark times. I am not at all confident in the strength of my faith, as I often have big doubts, but I am confident in Jesus. He saved me, He called me and He will keep me.

What is your favourite thing about Woodlands?
This changes … just now I love hosting, leading and being part of my small group. Our wee group is full of very honest, open people who are so supportive of each other as we all try to follow Jesus in our day to day lives. I am also really enjoying helping in crèche (that's a surprise to me!) while one of the leaders is taking time out with her own baby. I'm getting to know the youngest members of the Woodlands family and their parents. Maybe it helps that my boys are now well past that stage!
What brought about Women of Woodlands?
That was before my time but we are constantly reviewing whether there is a need or a purpose for a separate women's programme in Woodlands. Just now we see a need to provide more opportunities for women to get together to build friendships, share their stories of what God is doing in their lives and, sometimes, WoW provides a bridge into church for those who aren't yet regularly attending Woodlands.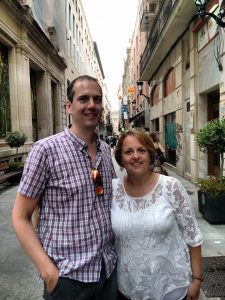 What's the vision for WoW in the next year?
The little organising group have been thinking and praying about this for a few months now. We're not sure exactly what the programme will look like but have identifed, what we see as, a real need to explore how we rest in God. Lots of us have an understanding that following Jesus should change how we live and behave but still find ourselves desperately seeking rest and peace in busy, stressful or even lonely lives. Often it seems any peace we have is easily snatched away. So we're hoping to learn some very practical ways to apply the biblical principal of resting in God. We're starting with a breakfast in September to introduce the theme and hear the experience of someone from our church.
Is there anything people could be praying for (can be personal or for WoW stuff)? Or are there practical things
Pray that I can balance all the different parts of my life. God has placed a whole range of people and responsibilities into my life which is a wonderful privilege but I need His wisdom about where to focus at any one time.
Pray I would make the most of any opportunities to share Jesus with those I meet. Pray that my whole life would speak of Him not just what I say.
Pray for us as a family. Steve has just become an elder in Woodlands so we are conscious that there will be new challenges ahead. Pray that our boys will grow up to become young men who follow Christ.
What would you say to someone who wants to be more involved in the church, but isn't sure where they fit?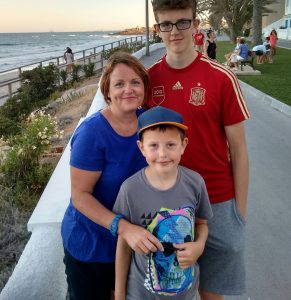 To get to know people, the best way is to join a small group. Commit to a group for the full year and just keep turning up, willing to be open and willing to listen.
Sometimes when we think about how to get more involved, or how to serve, in church we make it all a bit complicated. Listen out for what is going on, where people needed and, if you are communicating with God, He will quickly show you opportunities. Sometimes we get it wrong but then we need to be honest and learn from those experiences. However, simply turning up and sitting through a service then leaving is unlikely to help you feel like you fit .
Do you have a favourite verse?
My favourite verse is Micah 6:8 as when I feel a bit overwhelmed by what is expected of me this focuses me back on God and his desires.
I love it in The Message
"But he's already made it plain how to live, what to do, what God is looking for in men and women. It's quite simple: Do what is fair and just to your neighbor, be compassionate and loyal in your love, And don't take yourself too seriously— take God seriously"
Although it's easier to remember in the NIV
"He has shown you, O mortal, what is good. And what does the Lord require of you? To act justly and to love mercy and to walk humbly with your God."